I talked with Fiona Tarr, author of historical fantasy novels with strong mystical, spiritual and theological themes. Her newest release is The Jericho Prophecy, Book 1 of The Eternal Realm.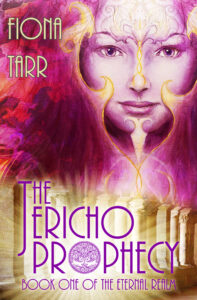 Synposis of The Jericho Prophecy:
The battle for divine power rages within the Eternal Realm.
As the conflict escalates a prophecy is born that will set god against god amidst the mortal world below.
When the young priestess Rahab saves two foreigners from execution, she sets in motion a sequence of events that could see the death of everyone she knows and loves.
The future of humanity hangs in the balance as two bloodlines converge to battle over the city of Jericho. Now the Goddess Asherah must protect the prophecy and ensure both ancestral lines survive.
If either bloodline dies, the Host of Heaven will continue to battle for eternity….
Fiona, your book looks exciting!  Tell us 3 fun facts about your writing history
I am the great-granddaughter of a fairly well known Australian literary author – George Johnston, whose book My Brother Jack was made into a mini-series more than once for television here in Australia.
I rushed my first book onto Amazon without a professional editor. It took me six years to get that first novel finished and I was both excited and impatient. It was my mum who told me how terrible it was (her grammar is way better than mine) and she re-edited for me, but eventually I had a professional editor go over it before releasing it back onto the market.
When I write, I see the scenes play out in my mind like a movie. The world around me literally disappears even with external noise.
Describe your writing style in 3 words
Fast paced (that's really two words but I can hyphenate it if you like J)
Honest
Deep
Name 3 of your literary influences
David Gemmell. His writing style continues to influence my work. I love the way he saw people, warts and all, and found in them (through his characters) the good and idealistic part.
Raymond E Feist
George RR Martin
If I picked an author from another genre it would be Kathy Reichs – love her forensic murder mysteries and the thriller aspect. Mystery/Thrillers are my fall back genre.
How long do you spend researching a novel?
I spend at least six months drafting an outline & researching key points in my books, but I also back up all my writing as I go with continued research. You can't write bible based fantasy without some sort of sensitivity to the theology behind what is still one of the world's most sold books.
Do you view writing as a spiritual practice?
Absolutely! I leave reality when I write and when I read back my work and I often feel like I don't even recall writing it. It is as though I was struck with some sort of revelation (I use that word in its non biblical sense) while writing. I totally love that feeling.
Tell us about your latest release
The Jericho Prophecy is my first book in a new series. Each book will be a standalone novel loosely based in an Old Testament story, re-written in a contemporary way. The concept behind this new series, named The Eternal Realm, is that humanity is living their lives at the mercy of beings (Angels, Gods) more powerful than themselves. These powerful divine creatures are waging a war against each other we simply have no understanding of.
I love writing stories based on the Old Testament historical writings. It doesn't matter if you believe them or not, they are full of turmoil and make awesome backdrops for fantasy stories.
Here is what some of my early readers are saying about The Jericho Prophecy:
"A truly wonderful read with the plot very skilfully woven throughout the book." Claire Simpson
"A tantalising tapestry of drama, power and faith woven between the worlds of mortal and divine." Rachel French.
For a short time, The Jericho Prophecy is only .$.99 on Amazon and Books2Read.  Get your copy now!