That Day in the Desert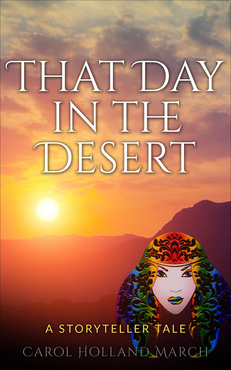 The dreamwalkers of Larreta journey to Earth to teach. Before they can teach, they must learn.
When their education is complete, they notice a gnawing sense of dissatisfaction, a wordless yearning for the doorway back to their homes. Some search for many lifetimes before they find a portal to Larreta.
The Storyteller of Verdallon would love to tell you what happened to Valerie That Day in the Desert.
The heat of midsummer shimmers around the car as it barrels through the New Mexico desert. A mysterious voice whispers in Valerie's ear and offers escape from a predictable life and a marriage of convenience. As the sun sets, the voice assumes a shape that beckons her from a distant mountain. When her car crashes into an enigmatic stone circle, Valerie must decide if the she's ready to risk the unknown.
Return to Radasam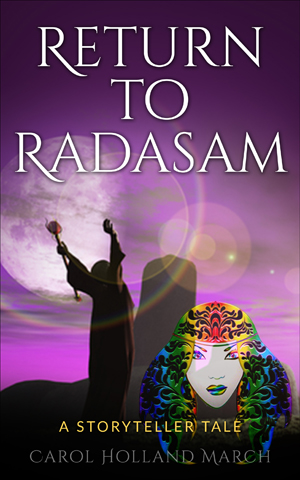 When the first time rift to attack Larreta snatched his beloved from him, Leo thought he would never love again. But Valerie, the recalcitrant newcomer from earth, makes him wonder if he gave up too soon.
Analia's story continues with Return to Radasam  available at the following stores, Amazon, Nook, Kobo, and Smashwords.but here, it's FREE for joining my Fiction New Releases group.
The Tyro

Larreta is being torn apart!
Time rifts are forming and swallowing everything in their path. If they continue, they could spread to Earth and create more chaos.
The Mentor of Larreta snatches Leo from Earth where he fled to escape his failures. Jesse, the newcomer, holds the secret to the origin of the rifts.  He swears he and Leo are old friends, but Leo can't remember him and isn't sure he wants to.
To save two worlds from destruction, Leo's memories must surface so he and Jesse can create a vital passage through time and space. But can he face the pain of his past and form a bond of trust with Jesse before it is too late?
The Tyro 
is a fantasy adventure with a metaphysical flavor and a love story that spans centuries. Available at Amazon, Nook, Kobo, and Smashwords.
The Rending
Book 2 of the Dreamwalkers trilogy
Two special dreamwalkers have completed their education on earth but can't advance to their next destination until they remember their destinies. Charged with working together to  fight a mysterious enemy threatening Larreta and earth, Leo and Jesse must put aside their feelings for each other so they can save two worlds.
Leo and Jesse struggle to create a dangerous passage to stop the enemy they cannot see.  But the dark force behind the time rifts has other plans and patience is her greatest virtue.
A romantic adventure through space and a love that spans centuries unfolds in The Rending.
Available at Amazon, Nook, Kobo, and Smashwords.
Kalong

The gripping conclusion to The Dreamwalkers of Larreta trilogy.
Leo learns the truth about himself on his trek across a lost planet. Searching for each other, the Dreamwalkers of Larreta face a door that hides the key to ancient mysteries. To re-unite with each other and save two worlds, all they must do is open it.
Available at  Amazon, Kobo, Nook, and Smashwords.