The gripping conclusion to The Dreamwalkers of Larreta trilogy.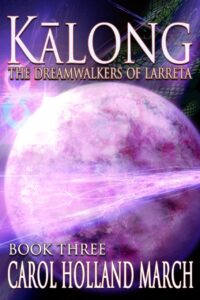 Leo has found the source of the deadly time rifts threatening Larreta.  His new life with Jesse is unfolding when a rift pierces Larreta and seizes him. Leo finds himself on the dark planet Kālong.
No one has ever left Kālong, but Leo must return to Jesse. He sets out to find Kālong's ruler and teams up with Ballan, a Horse That Once Flew, to escape the dying world.
On Larreta, Jesse grieves for Leo and, refusing to believe his lover is dead, begins the Call of Grief. Joined by other dreamwalkers, Jesse's Call reaches across time and space for Leo, but the cost is high and his energy wanes.
On Kālong, Leo learns the truth that has kept him from Jesse for so long.  When the mysterious being who causes the time rifts informs Leo that Jesse is calling him, Leo returns the Call, although the effort may end his life.
Searching for each other, the dreamwalkers of Larreta find themselves facing a door that hides the key to ancient mysteries. All they have to do is open it.
Kalong (The Dreamwalkers of Larreta Book 3)
 is available in ebook and print from Amazon.